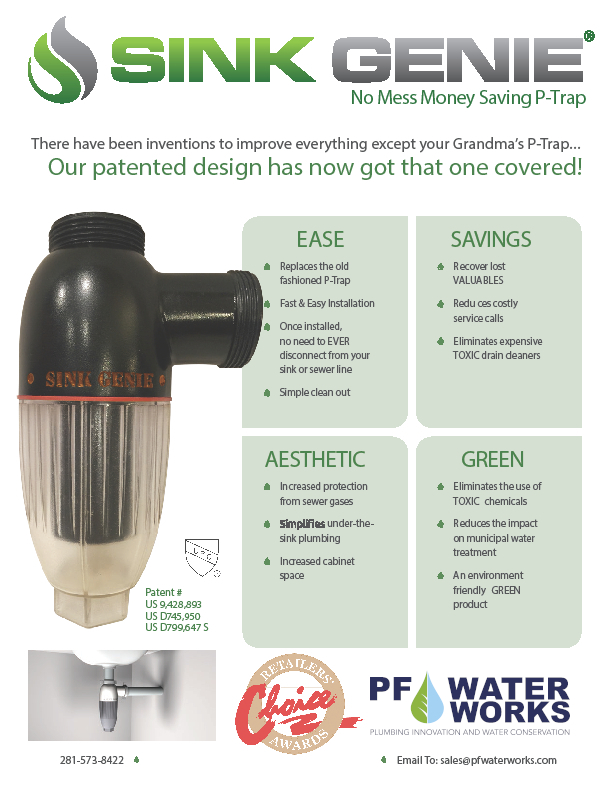 SINK GENIE-YOUR PARTNER TO THE FUTURE
Sink Genie, in a residential use application, is designed to provide the Homeowner with more access and control over their environment. The lead benefit we discuss is the ability to retrieve lost articles with ease. This becomes important on those occasions we lose an article of importance to us. A dental cap, contact lens, ring or ear ring and so on. With the current technology these items MUST be recovered immediately or they may be lost forever. With Sink Genie they can be recovered at ANY time without losing the use of your sink. But it doesn't stop there!

That is just the begining of the benefits provided by Sink Genie. Because of its patented design there is no longer any need to purchase toxic drain cleaners. This furthers the safety of those items lost and the Homeowner recovering them. Sink Genie as a result reduces the impact on water treatment plants. Considering the recovery of valuable items lost, service calls avoided and the cost of toxic chemicals, Sink Genie saves YOU money at every turn. $$$

Because Sink Genie is designed with an open system, the water flow actually reverses direction inside the unit. This causes turbulence inside the unit and causes debris to be suspended in the water to flow more easily to the exit port and then to the sewer. Because Sink Genie is easily and safely accessed for clean out, any potential blockage is easily managed.

Sink Genies modern, slim design allows it to be mounted higher up, under the sink providing more cabinet space in the base of your cabinet for easy storage and access!!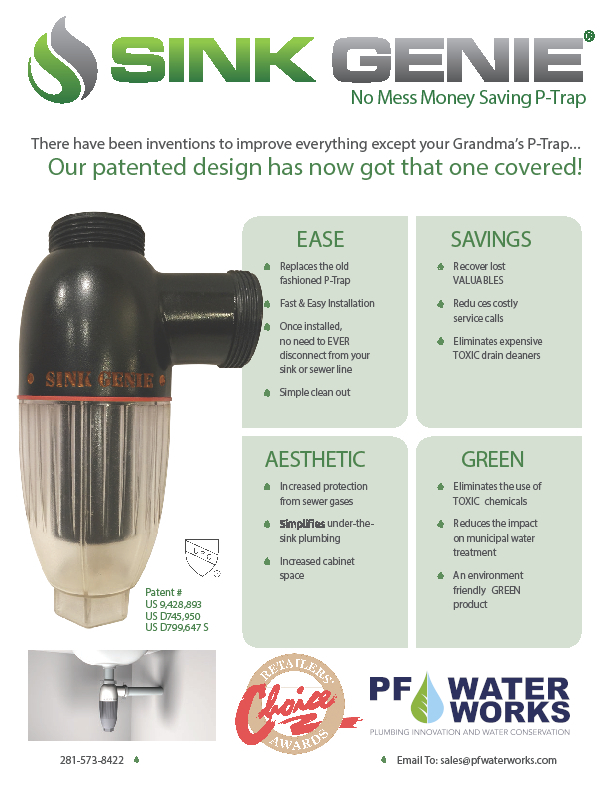 SINK GENIE-YOUR HOSPITALITY SILENT PARTNER
Sink Genie in a commercial environment provides all of the benefits described above AND MORE!!

Hospitality: Hotels, Motor Inns and Hostles Sink Genie allows operators, in-house maintenance, room and bell staff to manage the facilities without the need for professional plumbers. Sink Genies patented design allows staff easy access for clean out and retrieval of lost articles such as dental caps, contact lenses, rings, ear rings and so on. Room staff could be placed on routine observation and maintenance schedules. Once a week on Fridays, as an example, all rooms could be checked by room staff to prevent untimely blockages. This type of routine maintenance may prevent more serious down line blockages later. Because toxic chemicals are no longer necessary, your Staff and Clients enjoy a SAFE and GREEN environment!

Commercial Facilities: Restaurants, Casinos, Fast Food - All the benefits as described previously ALSO apply to commercial facilities as listed and more!! Locations where a sink is used either by the public or employees. Sink Genie presents the ability for Management, in-house staff and maintenance to control their environment without the need for expensive service calls! Blockages are both easily prevented and serviced. AGAIN, saving money at every turn!!
Sink Genie IS a better mousetrap!!